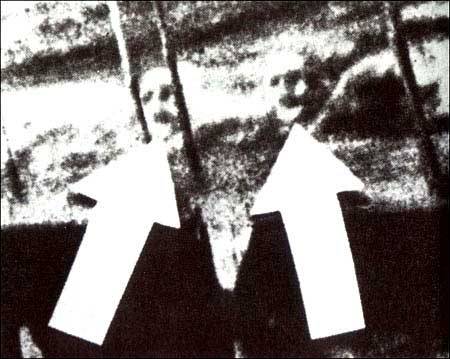 James Courtney and Michael Meehan, crew members of the S.S. Watertown, were cleaning a cargo tank of the oil tanker as it sailed toward the Panama Canal from New York City in December of 1924. Through a freak accident, the two men were overcome by gas fumes and killed. As was the custom of the time, the sailors were buried at sea off the Mexican coast on December 4.
But this was not the last the remaining crew members were to see of their unfortunate shipmates. The next day, before dusk, the first mate reported seeing the faces of the two men in the waves off the port side of the ship. They remained in the water for 10 seconds, then faded. For several days thereafter, the phantom-like faces of the sailors were clearly seen by other members of the crew in the water following the ship.
On arrival in New Orleans, the ship's captain, Keith Tracy, reported the strange events to his employers, the Cities Service Company, who suggested he try to photograph the eerie faces. Captain Tracy purchased a camera for the continuing voyage. When the faces again appeared in the water, Captain Tracy took six photos, then locked the camera and film in the ship's safe. When the film was processed by a commercial developer in New York, five of the exposures showed nothing but sea foam. But the sixth showed the ghostly faces of the doomed seamen. The negative was checked for fakery by the Burns Detective Agency. After the ship's crew had been changed, there were no more reports of sightings.
UNDER MAINTENANCE